Another quarter down. Let's take a look at what I set out to do for Q2 first:
Improve product thinking skills. I may start to write about my learnings about this.

Didn't happen. I did try to question more and share more of my insights than before at work.
Launch a new side project in the mindfulness or mental wellness space

It's VSJO. What I'd like to call a visual gratitude journaling app — the first (no-code) app I made. Instead of expressing through words, focus on recording your grateful moments through photos. Dead simple, but I made it that way so you don't have to worry about excessive features. I'll make a separate post about takeaways the next time.
Improve distribution for Buttermilk

Didn't happen either!
Am I disappointed I didn't meet my goals? Not really. My plans could change. My interests also change depending on what I find on the internet! That's why I don't set a 5-10 year long term goal. I hardly have a one year plan. I hate the idea of boxing and committing to it for the next so and so years. It doesn't mean I'm wandering aimlessly nor does that mean I'm not ambitious. (maybe a separate post about it) Let's get down to it — what happened in the past 3 months. I've broken my past quarter into three themes with details of what I did:
---
1. Consistency
I started a writing habit, specifically at least 100 words every day for 100 days. The 100-word writing is inspired by
Kadavy's email course
, but I took it up a notch by committing to it for 100 days. I'm determined to improve my writing because I want to push myself to learn more and think more clearly. For years, I've been putting my writing improvement on hold. This time I want to make it right by writing more now. I switched to a new blog at the end of the last quarter, which you're reading on now! Kudos to
MDX.one
. I also dedicated my time to be consistent with my self-care routines.
Working out:

Running and working out (mostly strength): An hour every Saturday and Sunday
An hour of yoga every Friday
Skincare routine every morning and night
Eating my vitamin Cs and fish oil supplements daily
And of course, writing daily.
I didn't always have the energy to follow through on some of them. In June I hit a few burnouts. I should have prioritised my self-care more than ever before, but I still couldn't bring myself to do so. I'm still doing pretty well with my workout and writing, but not so much on the rest. Some days were fine, but I didn't bother putting in any effort on others. Another way to look at that is I may be doing too many things. But the guilt made me feel bad about "not doing enough". Missing some days are fine, but that nagging feeling that you "should" be doing them doesn't help. This reminds me of
an article I read from Scott H. Young
:
First, realize that you actually cannot do everything you should. You can't even do everything you want to do. That's okay, that's just the normal constraint of living in a world where time isn't infinite. Therefore, it's totally okay to acknowledge that there's a trade-off between different pursuits. You might want to meditate an hour every day, but recognize that this will cut into your gym habit. Or you might decide that waking up early is going to cut into your social life.
We don't talk enough about trade-offs. We talk about how meditating is good and so is working out, reading, journaling, eating well and everything else. But we don't talk about how doing
everything
can lead you to burnout. Living well is not supposed to be overwhelming, but you need to prioritise what you want to focus on first and not everything else. Being consistent with your habits and routines are great, but don't overwhelm yourself with too many of them. Know your limits. (
Or, reinvent your routines by breaking them down depending on your energy levels. This calls for a separate post, but here's a summary) ***
2. Comfort zone
Some people perform better when they stay within their comfort zone. For example, working out 5 minutes a day, every day. It's within their comfort but they're able to keep at it every day. But for others, they venture outside to push themselves to their limit. I think I'm somewhere in the middle, depending on what I'm working on. When I'm putting myself out there, it's outside of my comfort zone. Even though it can be intimidating, I'm pushing myself to do more of it. I'm no expert. I'm still learning. From what
I learned from Kevon
, people are less likely to judge if you frame yourself as a learner. I'm putting myself out there by doing three things in the past quarter:
Meeting and talking to new people
Going live in front of the public
Meeting and talking to new people
I want to get better at speaking, networking, and overall communication skills. It's harder when physical events are moved online. What were once physical events that allowed you to mingle with others are gone (for now). But since people are shifting to the digital space, I could do the same too. I've spoken with WAY too many people than I could count in the past quarter. I was at least speaking to two new people every week, occasionally 3-4 people. A lot more than I do in any other year, ever. These are mostly people from Twitter, and some from
Public Lab
and
Elpha
. Mainly DMs, then video calls. What inspired me to start was at ODNC, where everyone is encouraged to reach out and talk to other fellows. It helped that I enjoy meeting new people, but also meeting new people around the globe helps me cope with the lockdowns happening in Malaysia. I'm glad it's 1-1s because I prefer it more than group settings. It's easier to get to know someone better and learn more about what they're working on, after all. Some are building their own business full-time, some are working on their projects at the side. Everyone is on a different stage of their journey, and it's reassuring to hear they've been through both ups and downs. It's normal, and it's part of the journey.
Going live in front of the public
I went on
Instagram live
where I talked about conscious living in relation to fashion activism. It was one of the talks hosted by Fashion Revolution Malaysia talks during Fashion Revolution week. Big thanks to one of my RL friends (
Ashley
) who nominated and encouraged me to speak in the panel. 🥺 I may appear and sound stoic or even robotic, but trust me it's the nerves. It's something I rarely talk about on Twitter, but one of the things I care about. To sum it up, I talked about what it means to be conscious of what you consume and how as individuals we can help reduce the cycle of overconsumption. (maybe a separate post too)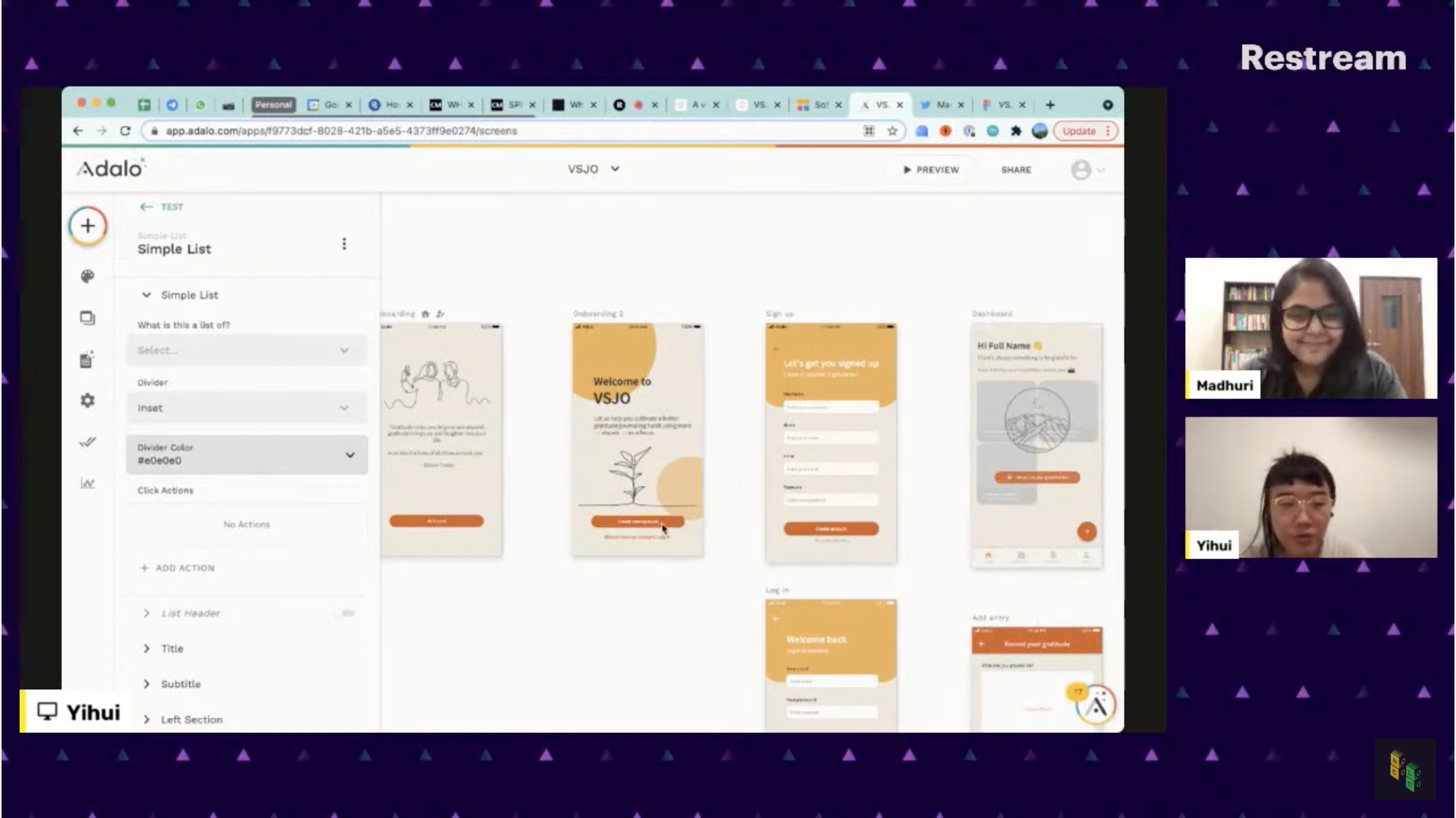 I was also invited to
Madhuri
's "Cold Brew & No-Code" live stream show to talk about no-code! Another first for me to talk about my no code project, especially live! I did it for ODNC when we demo'd our product to everyone, but this feels a little bit different. Despite the fact that it felt like a casual video chat with Madhuri, the fact that it was live made me x3 nervous. I stumbled, but it's a practice that I'd love to get better at. TLDR: I talked about how I built
VSJO
on
Adalo
and
Softr
that are both no-code tools.
If you'd like me to talk about my projects or a casual chat, feel free to DM me on Twitter. :)
Zom-In
, a small recent local startup specialising in connecting university students to entrepreneurs, reached out to me to share about Buttermilk. If you missed my previous reflections,
Buttermilk
is a directory platform to showcase and discover local artists in Malaysia. They provided me with a choice to do a write up in which I answer questions OR do a video interview. I went with the video interview. I could have taken the easy route out and answer questions via email instead, but I wanted to challenge myself to do more talking. Even though it's a video chat with the interviewer, this video will be published permanently for all to see. I get nervous in front of a big group or live (or being recorded) or both, but that's the learning curve I'm willing to accept. That's why I want to keep talking to people. Some people may not want to waste their time doing all of this. For me, I see it as an opportunity for growth. I get to push myself to speak more, learn, and meet new people. It's a win-win!
Launching a new project
I think part of the reason I build projects is that it feels restorative to me. Perhaps some of us do it more for the fun of it or as a form of therapy than anything else — at least for me.
This piece summarised it
for me:
"Those sorts of projects—those that completely consume my time/attention/energy—really are therapy for me. And although this might sound like my life is a train wreck, that's not really the point I'm trying to make here. It's just that when things are tough I know I can lean into a side project and it'll realign my focus and give me something productive to do with so much unstructured time."
I've built Buttermilk as my first project but my latest one -
VSJO
is a bit different. It's an app that requires people to sign up to try it. Why is it different? People must decide whether it's worth their time and effort to sign up and test it out. I might receive feedback from it. It's a bit nerve-wracking thinking about receiving feedback. What if it sucked? What if no one likes it? But so far it's been good. Launching an actual app, talking about it and promoting it on Twitter to get people to sign up — you have to put yourself out there. You can't expect people to come and try it for you. No matter how great your product or work is, you need to shout it from the rooftops. Also, it has come to my attention that I am a ball of nerves lmao. But I think I'm getting better at it. That's why I'm climbing out of my comfort zone. ***
3. Clarity
The past year has really given me the time to really consider what I want to get out of life more. There have always been distractions and excuses for not wanting to think about these things. It took a pandemic (I'm fortunate in that I'm not that badly affected)to tell me that the work I'm doing might not be what I want. That's why I started to build things on the side, join like-minded people in a few communities and being inspired by different people carving their own paths. However, recently I've been feeling down. I'm not sure if I'm just being hard on myself when I stopped building (for now) to focus on writing while everyone else kept building. Or perhaps it's the lockdown fatigue. Then I realised I hadn't been exploring and reading a lot, which is something I enjoy doing. Do I want to pursue a builder's life, or do I want to explore and broaden my knowledge? Do I want to tap into my creativity e.g. writing, photography, videography? Or all of them?? I'd love to, but my full-time job prevents me from doing more because I need the rest. I'm pretty sure I want to continue creating — whether that be building, writing, or making things. Honestly I have enough runway to take a break if I wanted to, but I'm afraid of doing the wrong thing or slowing down. But If there's one thing I learned from my first trip in April, it's that I need to slow the fuck down and try to stop overthinking so much. Ironically the theme for this section is clarity but I haven't gained it yet. But I think I'm getting closer than before. I just need to pick something and do it. I think I can try to encapsulate what I can do from what Richard P. Feynman said:
"Fall in love with some activity, and do it! Nobody ever figures out what life is all about, and it doesn't matter. Explore the world. Nearly everything is really interesting if you go into it deeply enough. Work as hard and as much as you want to on the things you like to do the best. Don't think about what you want to be, but what you want to do. Keep up some kind of a minimum with other things so that society doesn't stop you from doing anything at all."
Other highlights in Q2
Joined the Public Lab community
Started watching iyashikei anime (I wrote a tweet thread here)
Finally got my own credit card
Discovered Craig Mod's works about his walks around Japan and I love them
Tracking my media consumptions monthly
VAXXED! 💉 First dose, for now.
Nationwide lockdown in June (still happening)
******
Next goals
If I'm looking at the next half of the year, I want better clarity in what I want to do next. I'm still at a bit of a crossroads, but I think I'll try tapping into my creativity next. For the next quarter at least, I want to:
Build the last side project of the year. This time, it's really more for fun (already have an idea, but the execution is gonna be more challenging this time)
Continue writing quarterly reflections and once-a-month blog posts
Something ambitious, but I'd like to try making a creative project
Happy third quarter of the year, everyone! Let's get to it and good luck!