Another quarter down. Before we go into detail about what happened, here's what I set out to do for Q3 back in Q2:
Build the last side project of the year. This time, it's really more for fun (already have an idea, but the execution is gonna be more challenging this time) → Didn't happen lol.
Continue writing quarterly reflections and once-a-month blog posts → With success!
Something ambitious, but I'd like to try making a creative project → I didn't try making a creative project (yet), but I did do two pretty ambitious things in the past quarter. More about it in the first two sections.
I don't feel bad for not hitting my goals. In fact, I'm quite pleased I didn't because I made room for other things that matter more to me then. Leeet's jump right into it.
---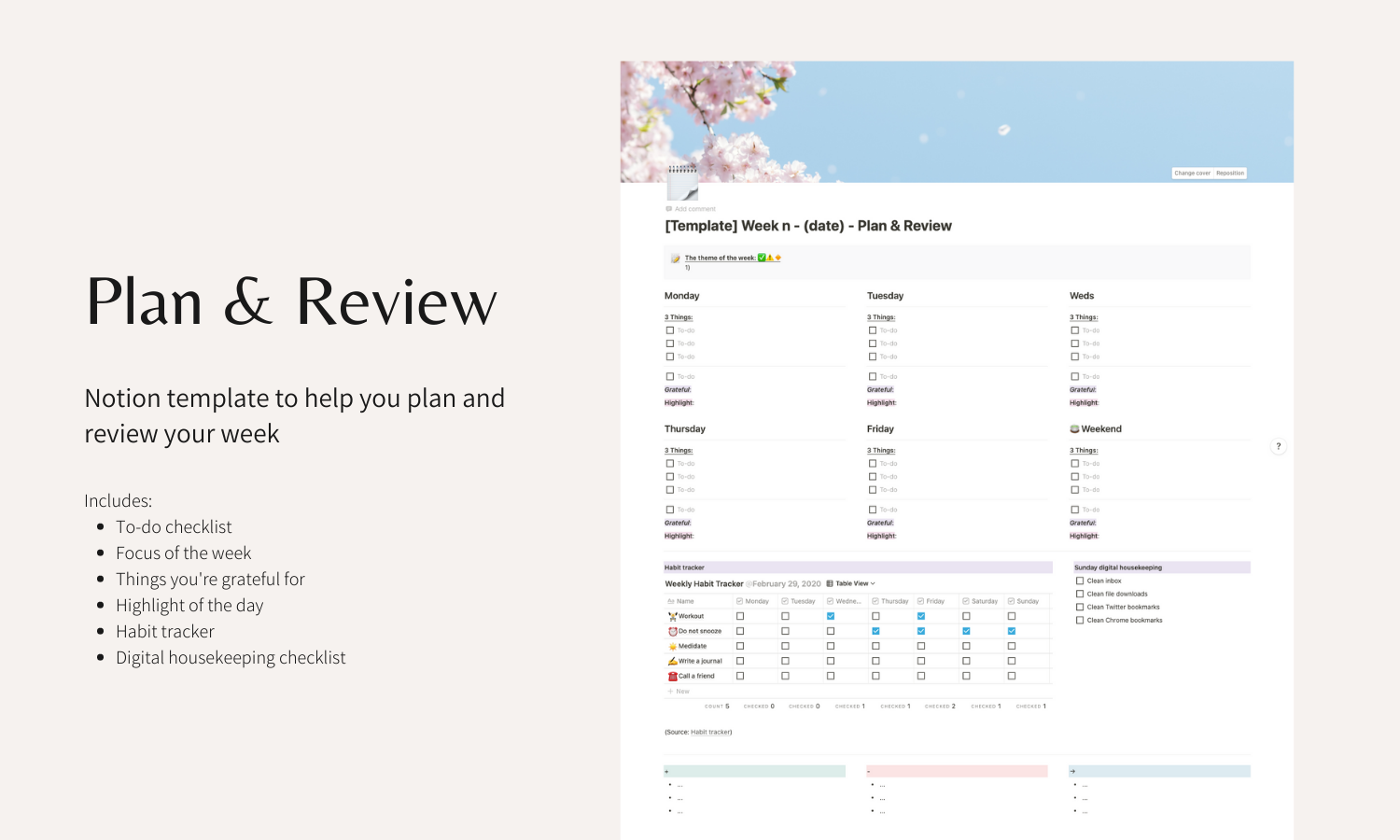 Earning my first internet dollar
Aside from relaunching
VSJO
and
writing about it
, I didn't build the final side project of the year. I decided to put that on hold because I was inspired to create a digital product.
First digital product: Notion template
I wasn't sure what kind of template I wanted to make at first, despite the fact I'm a fairly heavy Notion user I think. My thought process was to share something that I use frequently that's personalised for me and maybe helpful for others as well. A solution that I devised for myself to solve my problem. The first thing that came to mind was my weekly review and planning page. I didn't think it would be useful because there are already a ton of similar templates in the market. But as Twitter's wise words go, there's always something you can improve upon that makes it unique to you. And if it's something unique to you, there may be others who might find it the same too. I've been using my template for almost a year, and it's been tremendously beneficial for me. So, what's the harm? It could work. It could help someone who needs something to review and plan their week with daily tasks. So I did exactly that. I chose
Gumroad
because it appears to be the place where you'd sell your digital products (albeit there may be other better products). Initially, I offered it up free but some people still paid for it because hopefully, they saw the value. I set up a new public page so people could duplicate it. I
wrote about how I personally review and plan my week
in order for others to use it as a reference. A month later, I updated the template to include a monthly template as well as a yearly overview. This time I set a price. People still bought it because they believed in it, I hope! In total, I made enough to buy one or two good meals for dinner. If you're interested, you can
check it out on Gumroad here
. 🙌
Second digital product: Database
Rather than a template, my second product is a database of resources and tools as well as people to follow for new creators starting out their creator journey. It all started when a few friends reached out to me and asked how I got into no-code. I could share other people's guides, and simply copying and pasting the same paragraph I wrote to others, but I could also create my own guide. I kept putting it off because I had other things I wanted to do first. But after working out my priorities*, I realised the value of making my own guide.
I'm sharing my current knowledge and guide with others
Others share my guide with their circle — this is especially useful because the guide will lead them back to my website. I might be able to attract new people who enjoy my work too
I wrote
a beginner's guide to making and creating in the creator economy
, which entails what you can do as an aspiring creator as well as some resources. However, if you want to view the entire database of resources and tools, I put it up for sale on
Gumroad
. The creator economy is ever-growing with more tools and more creators every day. People are talking about web3 now (on Twitter), but the rest of the world is still catching up. So in the meantime, the creator economy is still here to stay. In total, I made a little less than my first product but it was still enough to buy me a good meal for dinner. If you're curious, feel free to
check it out on Gumroad here
. 🙌 *
In q3, my priorities were all over the place. What helped was simply writing down everything I wanted to do, then sort them in a Kanban board — Now, Thinking (Next), Less priority, Completed columns. Doing this gave me better clarity and an overview of what I want to prioritise now or later. I had to force myself to really think about what I wanted to do at the time, but it was a HUGE help.
Opening up emotionally
Did you have any heavy feelings weighing you down? I think a good bulk of mine was lifted from my shoulders and chest. I feel a bit more at ease now around my loved ones. I owe it to
Charlene and LivingOS
. I don't think it's an alternative to therapy, but group coaching was helpful for me too. I've been doing more observations and introspections of myself in the third quarter, which revealed that I do suffer from mild anxiety attacks. But hey that's another story to tell.
The past
My relationship with my parents is neither the best nor the worst. I talk to them like any other, but I don't go into detail about my personal life. It's not that the relationship is bad, but I just wasn't happy with my childhood because of certain expectations and pressures, which trickle down to my adulthood. Filial piety is valued in Chinese (and most Asian) culture. I know my parents did what they thought was best for me and during that time they did it to the best of their abilities, so I can't
entirely
blame them. But sometimes I can't help but wonder what might have been if things had turned out differently. It's pointless to try to change the past, but these thoughts have been haunting me and have been contributing to my triggers whenever I discuss personal matters with my parents. I joined LivingOS in the hopes of helping me in navigating my situation. I wanted to heal and let go of the past narrative I tell myself and forgive the past me. A lot of times I also tend to put the needs of others (my loved ones) first before myself because I'm afraid of confrontation and rejection, especially if I want to please or feel concerned about what they may think about me. I'm grateful to
Charlene, the LivingOS team and my cohort group
. Because of them, I mustered up the courage and finally spoke to my parents properly. I felt that before I pursued other opportunities in my career I needed to clear things up with them. I wanted to find the right time but it was because of one of my triggers that I did. It wasn't easy but I'd rather get it done than keep putting it off again and again. I wouldn't say it went as planned but I'm glad I did it — at the very least they're now aware of my thoughts and feelings. I wouldn't say everything is perfect now but it's a start. At least, I feel more comfortable talking to them about my personal projects.
Codependency
Learning about
codependency
was almost life-changing for me. I put people's emotions over my own and my emotions depend on theirs. I knew my emotions are sorta linked to someone else's but I didn't know how damaging it had been to myself! I assumed I was just sensitive to other people's emotions, but I didn't expect to become dependent on them. I needed to learn how to prioritise my own happiness and well-being first before others. This helped me to better navigate my relationship with my partner. It also came at a good time because he was in a bad slump then. If I hadn't known about this earlier, I could have been easily caught with his slump too. But I didn't, not really. I went about my business as usual while also supporting him and being there for him as much as I could without getting caught up with his emotions. It was difficult seeing him in that state, but I still had to put myself first. As a result, I think he got better soon after.
Asking better questions
Ask better questions, starting by using fewer "why" questions. "Why" questions are simple, but sometimes they can be hard to answer and may sound accusatory. What might bring better insights and open up more possibilities is asking the other 4Ws and "how" questions. Instead of asking "why do you want to do this?", ask "what makes this important to you". This is just one example. The intention might be the same, but you can see the subtleness in asking the latter which may open up for further conversation.
Taking a leap of faith
Job resignation
I had considered leaving my job since last year, but I stuck around because I wanted to complete and launch the new version of our app. When it did, I still stayed a bit more even though I was on the very of resigning anyway. Not close enough until my boss decided to leave ahead of me. That served as a wake-up call for me because he was a big part of why I joined the company in the first place. Now that he left, it reinforced my decision to leave. I put my letter in one week after he left. Leaving a job can feel like leaving a piece of your identity behind at times. You don't know when you'll get the next job. What if you aren't qualified for a better job opportunity? Those were my inner critic thoughts in my head. But after weighing the pros and cons of staying, I decided it was in my best interests to look for other opportunities. The first order of business, however, is to take a break and do some more exploring. I don't know what taking a break entails, but I did finally narrow my priorities and have a rough idea then of what I want to explore in the last quarter.
The creator path
I guess I'm also at the point where I want to learn as much as possible to see what sticks. Not to say I don't value the experiences and lessons I've gained so far but I feel like I've just been drifting/floating from one place to another. It appears like I can't make up my mind on a subject I'm more particularly interested in, compared to others. In other words, I can't seem to find my "niche". Or maybe I'm just a generalist and generally just curious. In light of that, I've been reading and reflecting a bit more, delving deeper into the future of work and the creator economy (even though the majority of people on Twitter are on web3). At the same time, I'm incredibly fascinated and inspired by how people (on Twitter) are making their lives work according to their own standards and creating something of their own. It makes me wonder if I could do the same — making the creator path my own too. I did try and made some internet dollars, but it isn't enough to sustain and launch a career out of it. So, I'm taking the next quarter to explore the creator path a little bit more by consistently creating, mainly in writing, drawing/illustrating and making videos. Hopefully, through that, I'll be able to find a "niche" to serve. Otherwise, it feels difficult to focus on 'everyone' if I don't know who I'm creating for. I want to focus on the process, but I still feel antsy about it. But I suppose that's what exploring is about. You explore to see what works for you and what doesn't. It doesn't mean I'm going to become a full-time indie creator anytime soon. When the new year rolls in, I'll resume my job search. Whether I have a job or not, I will continue to create and make. I don't think I'm prepared for it yet, but then again I don't think we will ever be at all. But if there is something miraculous that happens in those 3 months, hey I might just reconsider. Reflecting on all of this has helped me to solidify the main goal for this quarter, which is to find my niche through creation.
Quick note:
There's a
good thread about picking a niche here
. Not a guide; it's more about the importance of choosing a niche. It also doesn't mean you can't talk about anything else other than your niche. Niche ≠ Personality, as Kevon put it in the comments.
12 months ago - when it all started
I still can't help but to compare my one year journey to someone's 5 or 10-year journey. I know it's an unfair comparison. A better comparison: If I look back at past me last year, I've come a long way. So that's something to be a bit proud of, I believe. I started my building journey on 1 October 2020. I started with building
my first project
with a
30-day challenge Women Make
community. Then the rest was history. In those 12 months on Twitter, I have:
Joined amazing communities
Earned my first internet dollar
Learned the potential of becoming a creator
Created more than I consumed(Writing, build no-code side projects, create digital products)
Today is 1 October 2021. It's also a new journey with many day ones. I'm excited.
Day 1 of the last quarter and a new month
Day 1 of daily journaling
Day 1 of Inktober! (and first Inktober)
Day 1 of exploring and creating
Day 1 of hitting 1,000 on Twitter
Other highlights in Q3:
Still under a lockdown from June till early September
Fully vaxxed since August
My July birthday in a lockdown 🥳
Started an Alexander Technique course
Fully migrated my personal site (here!) from Fruition to MDX.one
Q4 goals
Writing
Do 30 days of writing challenge
Publish at least 3 more blog posts
Making films or videos
Publish at least 5 videos
Drawing / Illustrating
Do 30 days of illustrating (Inktober is here)
Through my focus on creating this quarter, my end goal would be to identify:
A niche I want to focus on
The ideal audience to help them
At the same time, I want to try a few more things such as:
Get a yoga certification (not looking to be certified by the end of the year, but to at least find one and get started)
〰️
Thanks for reading it until the end. I'm excited for the next quarter! All the best in your last quarter of the year too! Let's do this! 🙌✨